There are a ton of ways you can position your company as a founder.
Are you a SaaS, PaaS, IaaS, DaaS or some other "as-as-service" type company?
Are you sales-led, product-led or a marketplace?
Are you subscription based, e-commerce, ads, affiliate, license?
Are you ad-tech, clean-tech, bio-tech, hard-tech?
Are you machine-learning, deep-learning, generative AI, LLM?
And the list goes on…
There aren't many ways to think about your company that are broad enough to encapsulate all of the above, though. Perhaps who you sell to — businesses or consumers — is one, but it's tough to come up with many more. But broad startup positioning can be valuable in three ways:
It can give you analogues of successful companies that you can look to emulate.
It forces you to think beyond the scope of narrow categories that can pigeon-hole your thinking.
It can force you to be honest about what you are today, and what you want to be tomorrow.
Here's a framework I've been using as I've been considering startups to invest or start over the past year. It's really helped me rethink where the startup is, and where it could be moving forward. It's also useful as a barometer to understand the probability of success of the company and the expected value at the end.
Is the startup a market innovator, market disruptor or a market creator?

Market Innovator
Definition. This is a company that enters a market that is largely defined, but helps push the market towards greater improvements and innovation.
Examples. Zoom (video conferencing),  HubSpot (CRM),  MailChimp (email marketing),
Advantages
Well-defined category and market.  You know what you're getting into.
If the market is big enough, just being better might be enough to become a large company.
You can likely play in well developed ecosystems to jumpstart growth.
Speed probably doesn't matter as much.
Though you're competing with a lot of players, they may be mostly "slow to innovate" players.
The barrier to entry is likely low.
Disadvantages
If you want to become big, you're limited to only the largest markets.
You will likely never become the market leader or even runner-up.
You don't need to be the best product, but you need to have some novel angle.
You may have to build complex features that allow you to compete in the market.
You may find it boring, as the innovation may not "change the game."
The barrier to entry is likely low.
Market Disruptor

Definition. This is a company who is entering the market with the goal of upending it and potentially leading the market moving forward.
Examples. DocuSign (wet signatures —> e-signatures),  Slack (email/chat → synchronous chatrooms),  Figma (licenseSalesforce (on prem CRM —> cloud CRM)
Advantages
Well-defined category and market.  You know what you're getting into.
You can leverage a trend or upcoming technology to leapfrog your way to the top of the market.
You may find it very exciting to disrupt the incumbent players in the space.
Because you'll need to leverage newish tech, you can move much faster than large players once you start.
If you successfully disrupt the market, you'll be very successful even in markets that aren't enormous.
If you successfully disrupt the market, you will undoubtedly have very exciting acquisition offers.
Disadvantages
You need to be relentless with the pace of your company. Once the market catches on, they'll work their hardest to catch up.
Disrupting is not enough, you need visibility combined with disruption to be successful.  This requires a strong brand and great marketing.
You may find it hard to find an idea that is a disruptor, because that may depend on trends outside of your control.
If you're on your path to being successful, other startups will follow your path.
Market Creator

Definition. This is a company that is pointed towards category creation, whether that is through external trends, self-creation or both.
Examples. AWS (public cloud provider), GainSight (customer success software), AirBnb (short term home rentals for everyone)
Advantages
You are creating a market; therefore, you should be the de facto leader.
Market creation tends to bring strong brand equity and visibility.
Successful market creators have some of the highest growth and strongest retention.
You should have the biggest advantage out of the three in raising funds.
There will be a high barrier to entry into your market due to lack of visibility to start.
Market creators tend to be some of the most exciting companies to build.
You do not need a huge market to be successful.
If you succeed, a successful exit is guaranteed (whether IPO or M&A).
Disadvantages
This will be hard.  You have to drag your ideal customers to see the vision you see.  Likely this means seeing something they're already used to in a different way. Changing behavior is never easy.
You need to have a strong leader with excellent communication to educate the market.
There is no promise that your market will grow to be huge.
There is no guarantee that what you think is a market you're creating is something that is demanded by the broader market.
Ultimately, the difference between the three categories can be reduced to two factors: difficulty and market potential.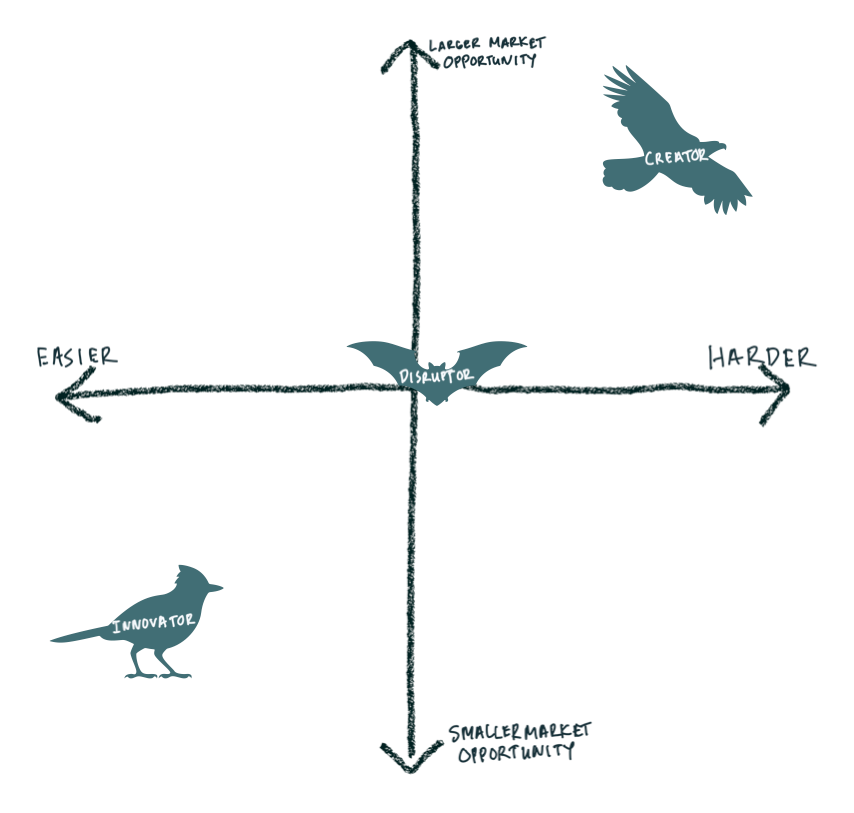 It's easier to be the innovator, but the upside tends to be less.  Reverse for the creator, and the disruptor is somewhere in between.  These are obviously broad generalizations and there are exceptions to the rule.  As you can see in the examples, I tried to use best of breed names to make sure you would know the companies.  But that's not necessarily representative of your path towards that type of success.  Again, if you succeed as a creator your path to massive success is more straightforward than if you are successful as an innovator.
One last thought — you don't have to stay in the same market category as a company.  You can start in one and then evolve into another.  Some of the best companies out there do this extremely well.  Apple, for example, is renowned for being a market creator.  But if you look closer, you may see them as something else entirely.  But maybe that's for another blog post!
---
Comments